Bulk Unloading & Storage Systems
A bulk unloading and storage system can increase production and plant efficiency while decreasing labor, material and energy costs. Colormax Systems has time-proven capability to tailor an unloading and storage system to meet specific applications. Consideration to plant layout, how material is received, the material's characteristics and conveying distance and rate are taken to ensure maximum system performance to handle materials such as wood flour, PVC compound, cocoa, dextrose, titanium dioxide, soda ash, calcium carbonate, sodium benzoate and many more hard to handle materials.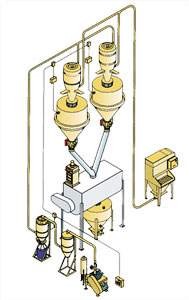 Colormax's sack dump station traps dust generated from the unloading of material received in bags. In addition to the vacuum system, the sack dump station can  introduce material into pressure systems or directly into a screw conveyor or mixer.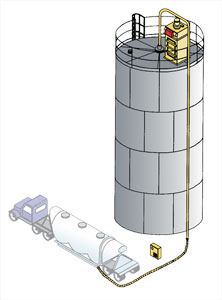 The PD truck unloading system includes a truck fill alarm panel located at the storage tank. A manual hose switch station lets the operator select the destination.